To provide you with the best possible service here are some tips when checking out online:
Make sure your shipping address is correct.
If the package is going to a business address (any place other than a residence), then the name of the business must be listed, so that the carrier will know which business the product is delivering to.
PO Boxes may not be listed as the shipping address.
Freight Carriers will not deliver to a PO Box.
Include an accurate phone number when placing on order online. If anything happens with your shipment, we will need the best way to get in touch with you. Carriers often call ahead to verify that someone will be at your business to accept the delivery. If the carrier is unable to reach you, they may not be able to deliver your items.
Multiple Items
We will ship your order as items become available, so there are times when you will receive multiple shipments.
Shipping Partners
The majority of our products are shipped via UPS.
The map shown below, displays the approximate transit times for UPS Ground delivery. Please note that the times shown are guidelines, not guarantees.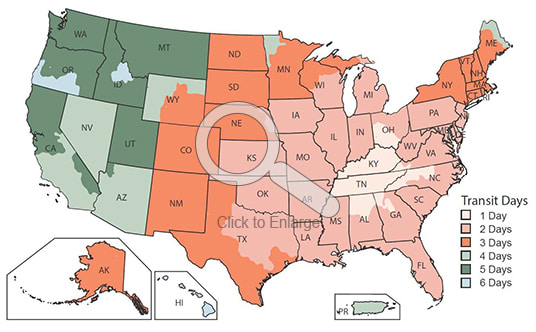 Delivery Options
Our system automatically determines whether your address is zoned in a commercial or non-commercial (residential) area.
Non-commercial Address: A non-commercial address is any house, apartment, or other living space, even if you operate a business from such an address. Schools and churches are considered non-commercial by shipping companies.
Commercial Address: Our freight carriers define a commercial address as any commercial or industrial site with tractor-trailer access or a loading dock that is open during normal business hours (9 a.m. to 5 p.m.). If your item(s) are shipping via freight carrier, in most cases the carrier will contact you to arrange delivery.
Free Shipping
We offer free shipping on All restaurant equipment.  When you're making the sort of significant purchases that are sometimes required in foodservice, that benefit can add up to hundreds or even thousands of dollars in savings on every order. 
Free, standard ground shipping is only valid on orders shipping to the 48 contiguous United States. We Do Not Ship to Alaska, Hawaii, Puerto Rico or any island that is off the coast and only accessible by ferry or vessel.
Freight Receiving Procedures
When an item exceeds the UPS standard weight limits, we ship via freight carrier. 
Inspecting Your Freight Delivery
Before the delivery driver leaves your driveway do the following. (Remember, once the driver leaves, you become responsible for reporting any damages to the freight company. My Restaurant Store cannot be held liable for those damages.)
Verify

 

the items being delivered are what you ordered.

 

Unpack

 

everything, but be sure to keep all of the original packaging materials. Do not throw out pallets or boxes until you are certain you want to keep everything.

The client should look over the shipment for indicators that something could be damaged or missing. Is the shrink-wrap intact? If not, note it on the delivery receipt and ask the driver how many cartons does the Bill of Lading show to be on their order so they can count and make sure all boxes are present.
The client should look at each carton they are receiving for, dirty boxes, dents, dings, creases, holes, punctures, broken pallets. If they see this, note it on the delivery receipt and request that the driver open the box. If he refuses, refuse the box and note it on the delivery receipt.
If the boxes are absolutely show room perfect, they should still write where they sign their name, "subject to inspection." Once the driver leaves, the client has 5 days to notify us of damaged items or missing items to help@myrestaurantstore.com.

Inspect

 

the entire piece of equipment - top to bottom. You are looking for visible and/or concealed damage, so look over everything thoroughly. Concealed damage must be reported and an inspection must be requested within 3 business days.
While the driver is present, make note of all damage that you see.

 

Take pictures

 

if you can. Check the products as they are being delivered and note any potential damage on the delivery receipt/bill of lading.
Now you have 3 options:

NO damage. Accept the shipment and sign off.
Slightly damaged. Write down all the damage you see on the acceptance form. If you do not want to live with the damages you see, in the event the carrier does not want to participate in a freight claim, it is best to refuse the damaged piece. Note the freight bill with "Refused." If you keep the shipment, make sure you note the damage that you see on the bill that you sign. If the driver only has a PDA (electronic device), make sure you have him note something on paper that he will sign before you allow him to leave.
If the item you ordered is

 

completely damaged

 

refuse the shipment. Please make note of the damage and take photos. Contact us as soon as possible to start the return process help@myrestaurantstore.com
If freight damage does occur we are here to help. Please call us at 973-288-3665 Monday through Friday from 8 a.m. – 8 p.m. Eastern Time. Please have your order number, shipping information, and any available tracking numbers ready so we can quickly and accurately assist in the process.
Liftgate Service
Since items shipped via freight carrier are typically bulky and heavy A liftgate is required for all commercial and non-commercial addresses without a loading dock or tractor-trailer access. A liftgate safely unloads items over 75 pounds from the truck down to ground level. Once the item is on the ground it is your responsibility to move the product inside.
 *Please be aware of the following:
Liftgate service does not include taking items into your building.
For any other questions or concerns please contact us at help@myrestaurantstore.com or give us a call (973)288-3665
*** Most Items Ship within 24/48 Hours with the exception of Holidays and Weekends!