Dormont 1675KIT48 48" Gas Connector Kit w/ 3/4" Male/Male Couplings
Dormont

1675KIT48

Description
The Dormont 1675KIT48 moveable gas connector kit is designed to provide your kitchen staff with peace of mind when using gas equipment mounted on casters. The 48-inch-long hose, which is made with stainless steel tubing covered by stainless steel braids and coated in blue antimicrobial PVC, is attached with fittings that keep both ends secured during use and movement. The SnapFast™ quick-disconnect fitting shuts gas off if internal temperatures exceed 350 degrees Fahrenheit, which protects the unit from damage and operators from harm. The Dormont 1675KIT48 kit also comes with two 90-degree elbows, a gas ball valve, and a restraining cable.
Product Details
Moveable gas connector kit
Hose constructed with stainless steel tubing and braided covering
Coated with blue antimicrobial PVC to protect the hose
SnapFast quick-disconnect fitting ensures gas shut-off if internal temps exceed 350 degrees F
Includes (2) 90-degree elbows, gas ball valve, and restraining cable
Designed with technology to reduce amount of stress on hose ends
To be used with commercial cooking equipment mounted on casters
Overall Dimensions: 48 in. L x 3⁄4 in. inside dia.
Product Features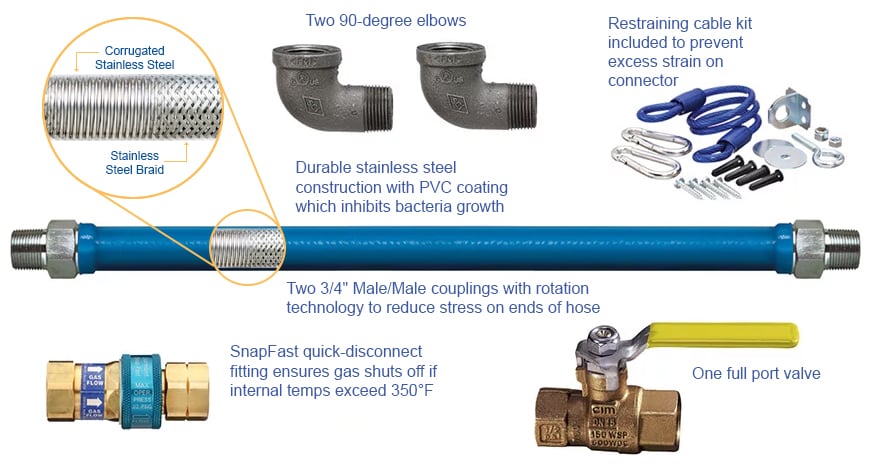 Dormont Blue Hose™ Moveable Gas Connector Kit, 3/4" inside dia., 48" long, covered with stainless steel braid, coated with blue antimicrobial PVC, (1) SnapFast® QD, (1) full port valve, (2) 90° elbows, (1) Snap'N Go, coiled restraining cable with hardware, 180,000 BTU/hr minimum flow capacity, limited lifetime warranty
---
We Also Recommend