Pitco 40D Gas Fryer - (1) 45 lb Vat, Natural Gas
The Pitco 40D fryer has a 151⁄8-inch width that fits into kitchen layouts with a small available footprint. This model has the capacity to hold between 40 and 45 pounds of oil and provides a frying area that measures 14 inches by 14 inches, which is ideal for foodservice operations with a medium-volume demand for fried foods. Containing at least 20 percent of the total oil, the deep cool zone catches crumbs and sediments to prevent them from burning so that operators can fry breaded dishes like mozzarella sticks, chicken tenders, and onion rings.
This fryer is equipped with an atmospheric burner system and four tubes with mounted baffles to produce heat and combustion efficiently. Featuring an upper limit switch that shuts off the gas flow if the fryer begins to exceed safe temperatures, this tube-fired fryer has a temperature range of 200 to 400 degrees Fahrenheit. Its comprehensive gas control valve will also shut off the gas flow if the pilot flame goes out. The Pitco 40D fryer has a stainless steel tank that is welded and has a smooth finish to facilitate cleaning.
Product Details
40- to 45-lb. oil capacity
Stainless steel tank is welded with a smooth finish that facilitates cleaning
Deep cold zone catches sediment from breaded foods and prevents them from burning in the oil
Comes with twin fry baskets
Basket hanger is removable for cleaning
Tube rack provides a level basket surface for consistent frying
Temperature range: 200-400 degrees F
4 stainless steel tubes are mounted with alloy stainless steel baffles
Designed to provide efficient heat and combustion
Flue deflector is integrated and directs heat to the hood vent
Flame is instantly provided by a standing pilot
Gas flow shuts off if the pilot flame goes out
Upper limit shuts gas off if the fryer exceeds safe temperatures
11⁄4-in. NPT drain valve is front located
Drain clean-out rod removes sediment and debris
6-in. legs are adjustable, providing level installation and floor clearance
Heavy-duty stainless steel front and door with corrosion-resistant galvanized sides and back
107,000 BTU
Product Features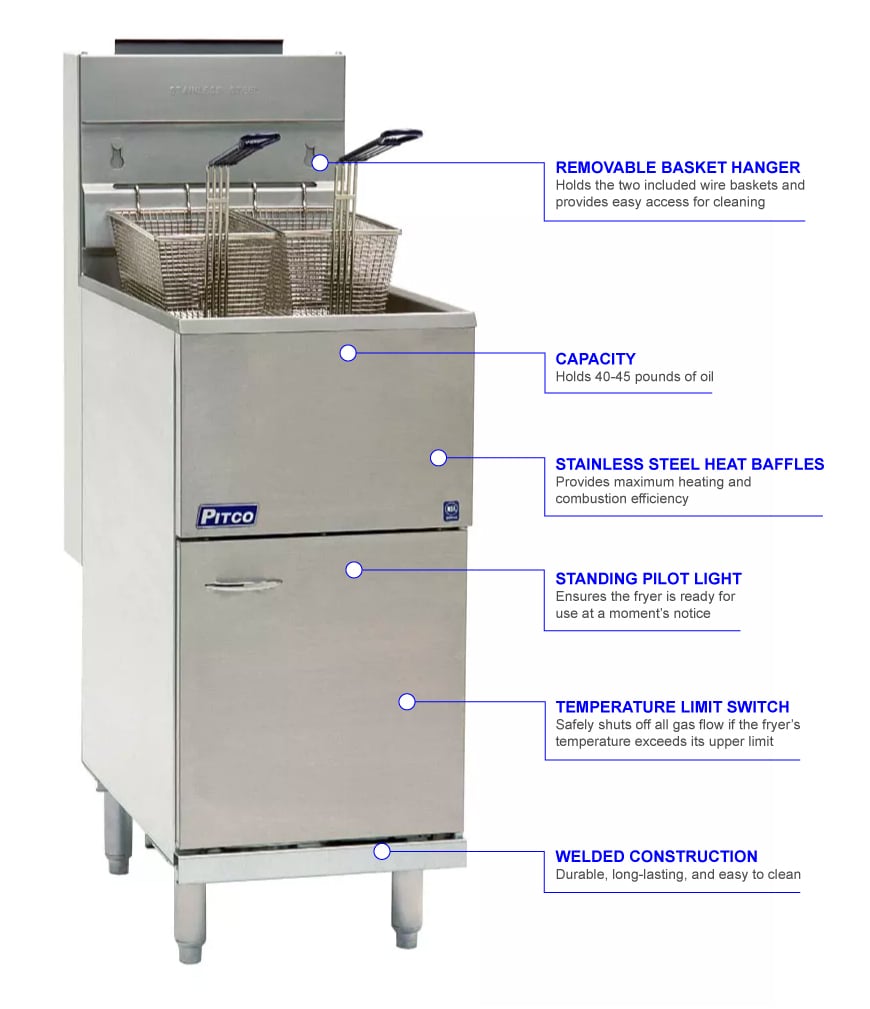 Dimensions & Utilities
Frying area: 14 in. x 14 in.
Overall: 151⁄8 in. W x 309⁄32 in. D x 479⁄32 in. H
Heated by natural gas
31.4 kW
Tube Fired Natural Gas Fryer, welded tank, 40-45 lb oil capacity, stainless tank, stainless steel front, door and galvanized steel sides and back, thermostat maintains selected temperature automatically between 200 F and 400 F, safety temperature switch. Included: 2 twin size baskets, drain extension, flue deflector, drain clean out rod, removable basket hanger, 6" adjustable legs.
---
We Also Recommend