Pitco 65C+S Gas Fryer - (1) 80 lb Vat, Natural Gas
The Pitco 65C+S fryer has an 80-pound oil capacity and produces as much as 79.3 pounds of fries in an hour. This tube-type fryer is built with a deep cold zone that contains at least 20 percent of its oil. To prevent burning, the cold zone captures sediment from breading and other food particles so that it does not transfer a burnt taste to the oil. Heat baffles are fitted to the fryer's heat exchanger tubes to promote efficiency and quick recovery. Thermostatic controls maintain set temperatures between 200 and 400 degrees Fahrenheit.
This Pitco 65C+S economy fryer has a rugged, welded tank with a smooth, peened finished, so it resists damage and can be cleaned up quickly. To supply durability, the cabinet's front and door are made of stainless steel, while its sides and back are made of galvanized steel. The fry tank is also made of stainless steel, providing corrosion resistance and facilitating quick cleanout. Featuring a cleanout rod to help remove stubborn sediment, the front-located 11⁄4-inch oil drain helps staff when emptying the fry tank. An included drain extension can direct draining oil into a filter system or container.
The Pitco 65C+S is built with a high-limit switch that cuts off the fryer's heat if unsafe temperatures are detected, reducing the risk of fire and heat damage. Should the fryer's pilot light go out, a safety valve will shut off gas flow to the main burners to prevent harmful gas buildup in the kitchen. An included flue deflector—mounted on the rear—helps guide heat towards the hood range to maintain comfortable ambient temperatures in the kitchen.
Product Details
80-lb. oil capacity
Can cook 79.3 lbs. of fries in an hour
Fry tank is welded and finished with a smooth, peened texture to support cleanup
Heat exchanger tubes are equipped with stainless steel baffles for efficient heating
Standing pilot light provides quick startup
Cabinet is built with a stainless steel front and door with galvanized sides and back
11⁄4-in. NPT drain located at the front of the fryer facilitates oil removal
Integrated flue deflector directs heat towards the hood vent to help maintain comfortable kitchen temperatures
Fryer's deep cool zone contains at minimum 20 percent of the total oil capacity and helps capture sediment
2 oblong mesh baskets included
Basket hanger is removable for cleanup
Includes drain extension and drain cleanout rod for cleaning the frypot
6-in. adjustable legs enable the fryer to be installed level on uneven floors
150,000 BTU
NSF Certified
Product Features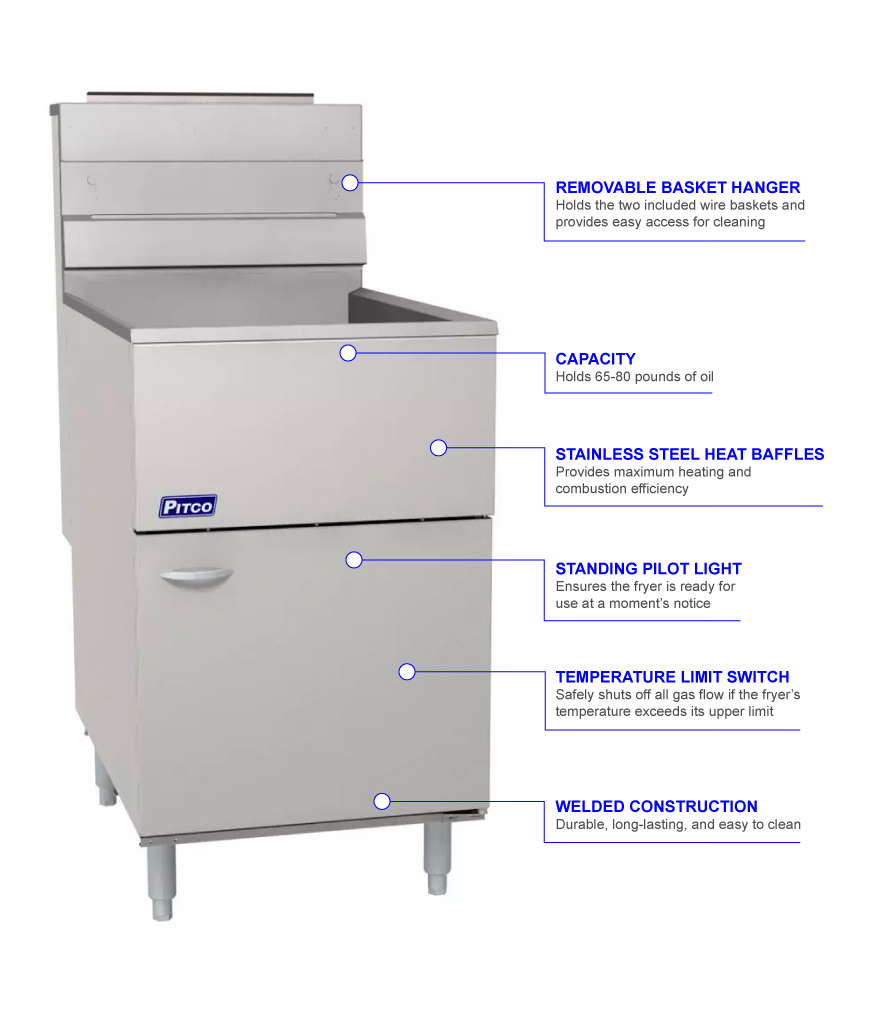 Thermostatic Controls
Temperature range: 200-400 degrees F
Gas control valve incorporates manual and automatic pilot valve
Gas control valve shuts off gas if pilot flame is not present to prevent gas leaks
Temperature limit switch monitors oil temperatures and shuts off equipment when they exceed safe levels, preventing fires and overheating
Dimensions & Utilities
Cooking area: 18 in. L x 18 in. W
Overall: 205⁄32 in. W x 347⁄16 in. D x 4713⁄32 in. H
Heated by natural gas
Fryer, natural gas, floor model, 65-80 lb. fat capacity, millivolt control, stainless steel tank, door & front, 150,000 BTU, CSA, NSF